From the 6th of September, 2022 we'll be changing the price of our Basic Plan, both in Nigeria & Ghana and I'll explain why we made this decision.
Last year, we started Catlog with one simple goal in mind, to provide you with a link you can use to show customers items you sell - and take orders on Whatsapp.
While we're still very much focused on this, and over the last couple of months, we've launched a lot of other things to help you sell better, here's a list of some of them:
Orders & Customers (Manage your orders & customers on from your Catlog Dashboard)
Product Options (Show customers options of each products & their prices to make selection easier)
Discounts & Coupons (Create discounts for products & coupons customers can use during checkout)
Store Managers (Add people to help manage your Catlog store)
Multiple Stores (Manage multiple Catlog stores from one account)
Opening & Closing hours (Show customers when your business is Open to take orders)
Delivery Areas (Add areas you deliver to and prices - so customers can select at checkout)
Checkout Options (Provide different phone numbers customers can check out to)
We also have a number of things in the pipeline, coming in the next couple of months.
Payments & Invoices (Get a dedicated account number, Give customers multiple ways to pay you & create beautiful invoices)
Messaging Integrations (Bring all your social conversations into one place)
Deliveries (Book deliveries at affordable prices)
Escrows (Protect yourself & Improve customer's trust)
Integrations with Facebook Pixel
In summary, our focus has changed from just giving you a link, to giving you a suite of tools to sell seamlessly on social media.
Our new pricing
From the 6th of September, 2022, Catlog's Basic monthly plan would now cost NGN 1,500 in Nigeria & GHC 35 in Ghana.
In addition to this, we've rolled out a quarterly (3 months) plan that gives you a 5% discount from the monthly plan, this plan would cost NGN 4,275 and GHC 99 in Nigeria and Ghana Respectively.
We've also added a new Business+ plan that allows you upload unlimited products, add store managers, manage multiple stores from one account.
Business+ monthly costs NGN 4,500 in Nigeria and GHC 100 in Ghana, while Business+ quarterly costs NGN 12,825 and GHC 285 respectively, all quarterly plans have a 5% discount.
All paid plans come with a 14 day free trial (no card required).
Here's a simplified view of this information:

Here's also a breakdown of all plans and their features: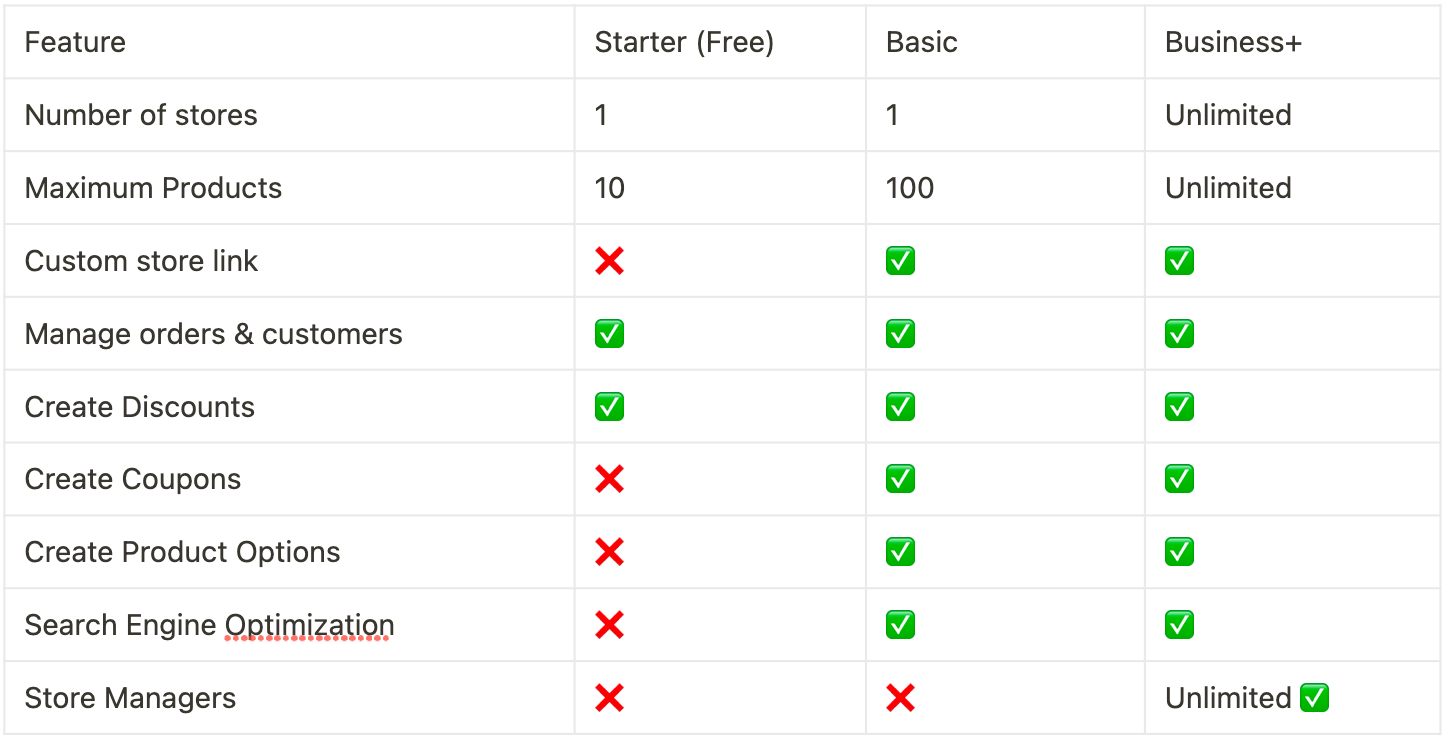 While we understand that these changes are significant, we've also tried to keep the prices as affordable as we can.
As always, your business is of priority to us and we look forward to serving you better. You can send us an email at holla@catlog.shop or reach out to us on Whatsapp if you have any questions.
Here's to being a part of your success story 🥂