Since we launched in December 2021, Catlog has had one goal - to provide businesses with the tools they need to grow their business on social media, and we've stuck to this. We've grown from a simple link to take orders, to offering a suite of tools businesses use every day, and we're lucky to have served more than 10,000 businesses so far.
But as with everything, growth comes with changes. To enable us to keep providing the best service to the thousands of businesses that use our platform, we've decided to change our pricing. From the 8th of October, 2023 we'll be changing the prices of our subscription plans, both in Nigeria & Ghana.
But before we get into the details, we want to say thank you to all our businesses for choosing Catlog and sticking with us, we exist because of these businesses and we look forward to continuing to be your business partner and supporting you with all the essential tools your business needs to thrive.
Here's our new pricing
Basic Plan
In Nigeria, the basic plan will now cost NGN 2,350 (Monthly) and NGN 6,695 (Quarterly), we've also added a bi-annual plan to give more flexibility, this will cost NGN 12,970.
In Ghana, it will cost GHS 42 (Monthly), GHS 118 (Quarterly) and GHS 230 (Bi-annually).
Business+ Plan
In Nigeria, the business+ plan will now cost NGN 6,750 (Monthly), NGN 19,235 (Quarterly), and NGN 37,560 (Bi-annually).
In Ghana, it will cost GHS 120 (Monthly), GHS 342 (Quarterly) and GHS 662 (Bi-annually).
All quarterly plans have a 5% discount while all bi-annual plans have an 8% discount.
All paid plans come with a 14-day free trial (no card required).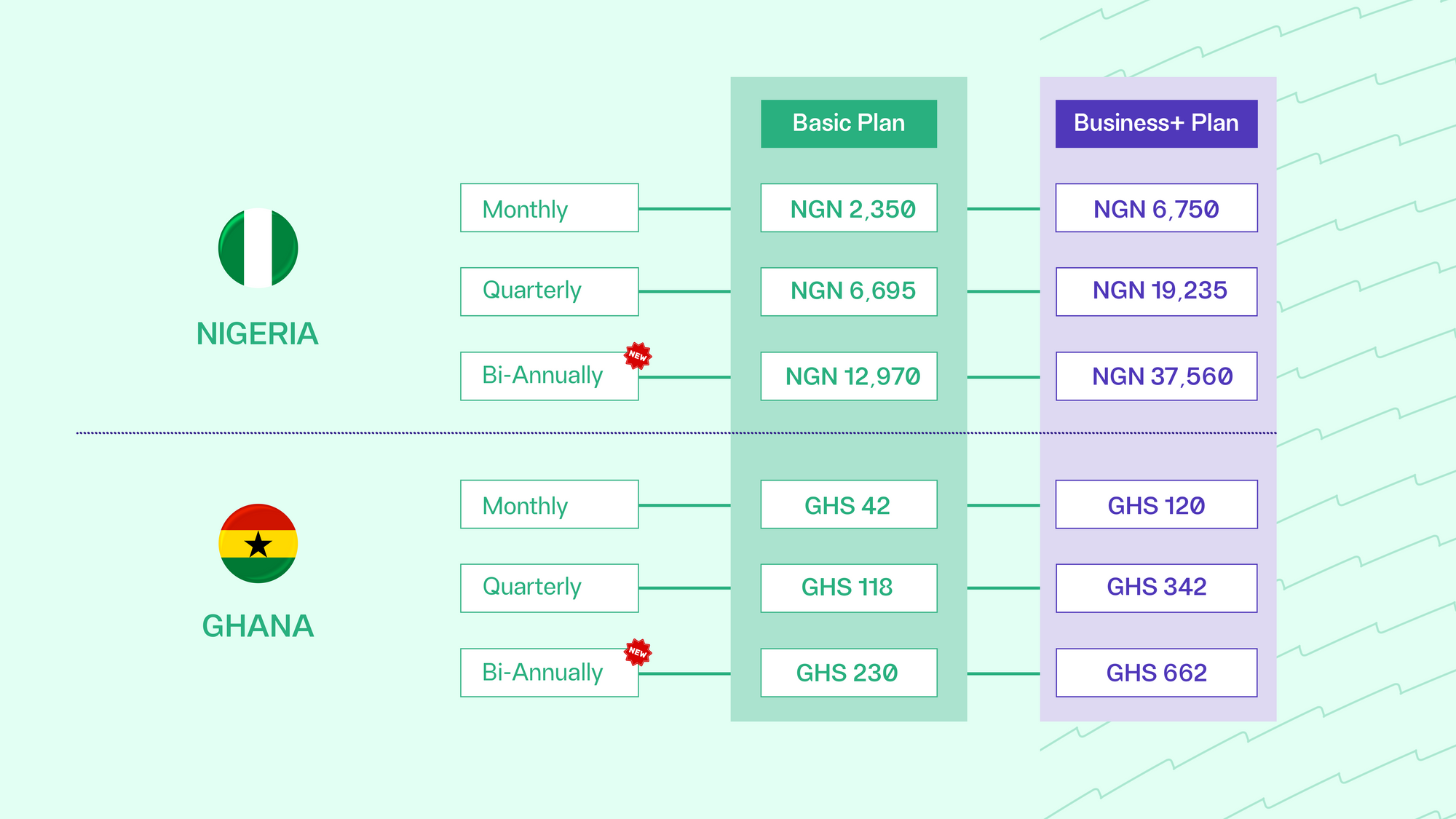 We understand that these pricing changes may be significant, but we've also tried to keep the prices as affordable as we can. To help you lock in our current pricing for the next 3 months, we're offering a 10% discount on our quarterly plans for the next week.
---
Over the last year, we've launched many features businesses have found useful.
A beautiful new dashboard - We revamped the experience of using Catlog
Payments - Dedicated account numbers for businesses, multiple ways to get paid
Invoices & Receipts - Simple ways to create professional invoices & receipts
Deliveries - Fast way to book deliveries with over 10 courier partners
Multiple Currencies - Ability for businesses to sell in USD, GBP, EUR, ZAR, NGN & GHS
Instagram Checkout - Ability for businesses to check out on Instagram
We've also made lots of minor updates like improvements to our checkout experience, maintenance mode for stores, and improvements to coupons and discounts.
And that's not all, we're working on a lot of other interesting things too:
A mobile app to help businesses operate with greater ease
Catlog Chat - Our chat app that allows businesses to manage customer conversations in one place
Payments collection in USD & GBP
Savings, Credits and Spend management
Store templates & more customization abilities
Custom domain names
SMS and Email marketing
Product uploads from Instagram
In view of this, here are the features subscribers of each plan would have access to: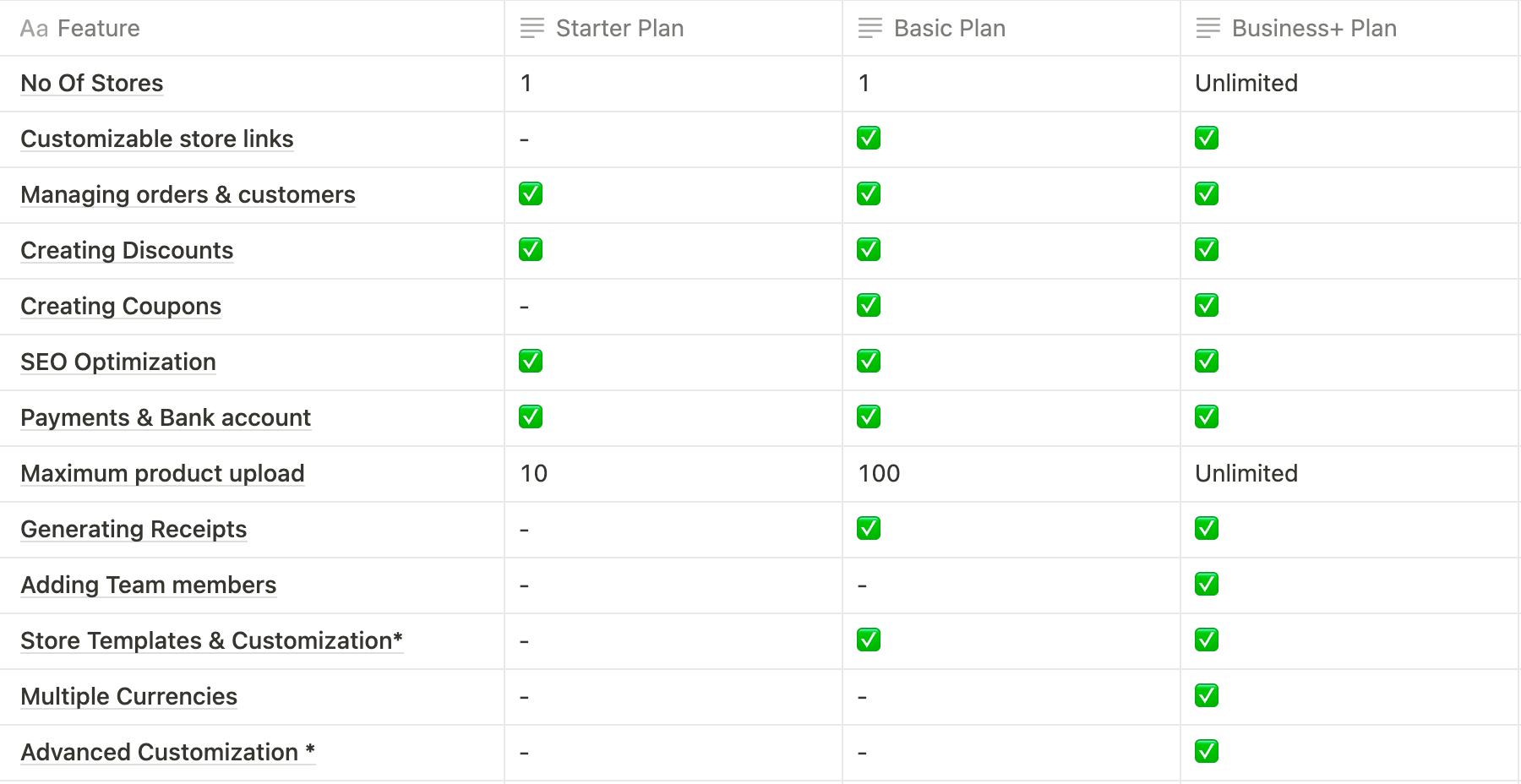 As always, your business is of priority to us and we look forward to serving you better.
You can send us an email at holla@catlog.shop or reach out to us on WhatsApp if you have any questions.
Thank you for choosing Catlog, and here's to being a part of your success story! 🥂