Announcements
Introducing Findwithcatlog 🎉
Findwithcatlog helps everyone find items to buy on Twitter, by searching the name of the item and #findwithcatlog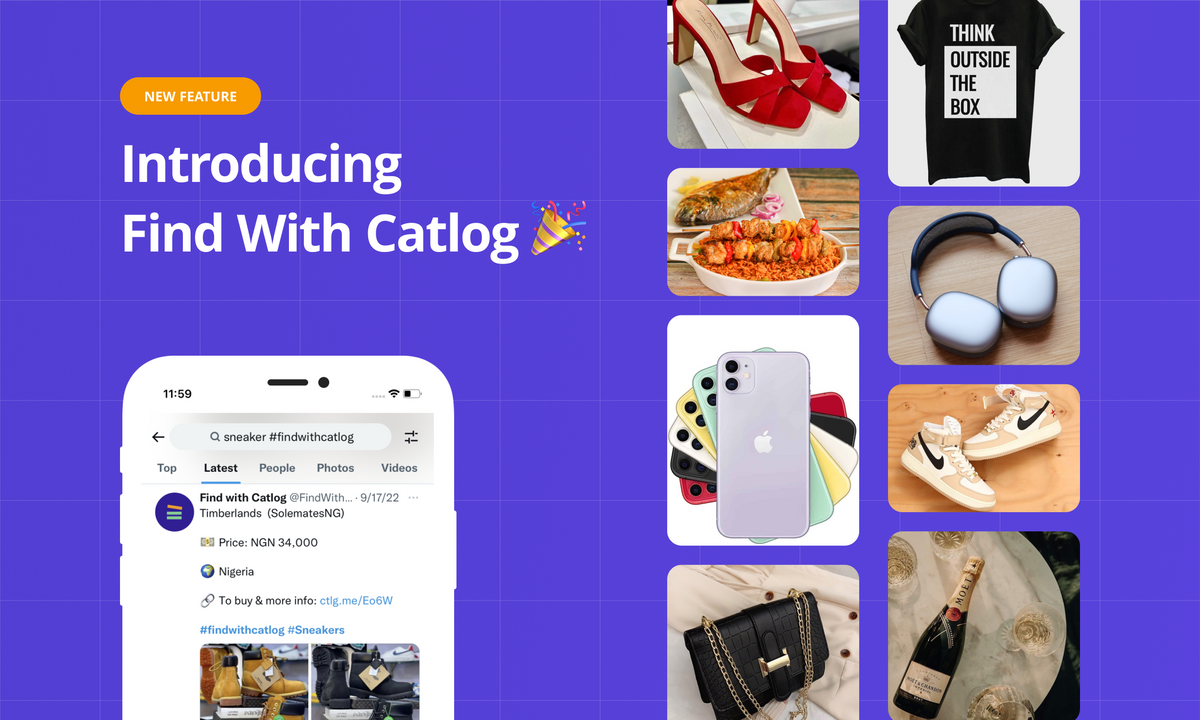 Social media has been one of the biggest creations since the advent of the internet, it has given billions of people a place to speak & share information with the rest of the world, a place to learn about the world beyond their immediate environment, a place to find communities that matter to them, a place to make money and a place to buy and sell.
Oftentimes, when people need to buy items, their first thought, is to ask a friend or search for it on social media. But searching for items on social media has a couple of problems.
Most platforms were not built for finding items, so you'll have to filter through lots of irrelevant posts to find actual items.
Many of the results you'll find aren't detailed enough with the right information you'll need to make a purchase. Information like location, price, options available & images are oftentimes missing.
It's difficult to tell if the items you find are genuine or not.
And this is why we're launching Findwithcatlog. Findwithcatlog allows buyers to find items to buy on social media by searching the name of the item with the hashtag #Findwithcatlog.
We're launching this first on Twitter and then across Meta's platforms (Instagram & Facebook) soonest.
As of today, we've listed almost 15k items on Twitter from thousands of sellers in categories like fashion, food & drinks, gadgets & devices, beauty & makeup and we're listing more every day.
Each search result contains the name, description, price, location, and images of the product - and also a link to see more details about the product and make a purchase.
Asides from helping users on social media find items to buy easily, another reason we're doing this is to help sellers on our platform gain more visibility and in turn make more sales.
A big part of our mission is helping sellers grow their businesses on social media, and this helps brings us a step closer to achieving that.
For us at Catlog, it's still day 1 and we have quite a number of interesting products & tools on our roadmap.
Cheers to making buying and selling on social media easier 🚀