Previously, if you wanted to make a purchase from a merchant on Catlog, you would visit their store link to select what you wanted to buy, you would be sent to a Whatsapp chat with the merchant to confirm your order, and finally, you would pay the merchant by transferring money to them.
For the merchant, this presented a couple of problems. Firstly, if a customer was unable to make a transfer right away, there were no other payment options available.
Secondly, customers had to send a screenshot of the payment receipt and wait for the merchant to confirm payment. Additionally, if the merchant had a sales representative, they might ask the customer to send payment to their personal account, which would redirect the payment away from the business.
Lastly, many business owners do not have business accounts, which limits their ability to separate their business and personal finances when collecting payments.
---
Over the last few weeks, we've been testing new ways for merchants on Catlog to get paid as easily as possible, and today we're excited to release it to the general public.
Firstly, businesses on Catlog can now get a bank account with their business names, this helps them appear more professional and also helps keep their personal finances separate from their business finances.
Secondly, every time an order is placed, a link gets attached to the order message on WhatsApp, customers can now make payments via this link with several payment options.
Thirdly, business owners can now enable payments on their stores, which means customers would have the option to either pay before leaving the store or just send their orders to Whatsapp.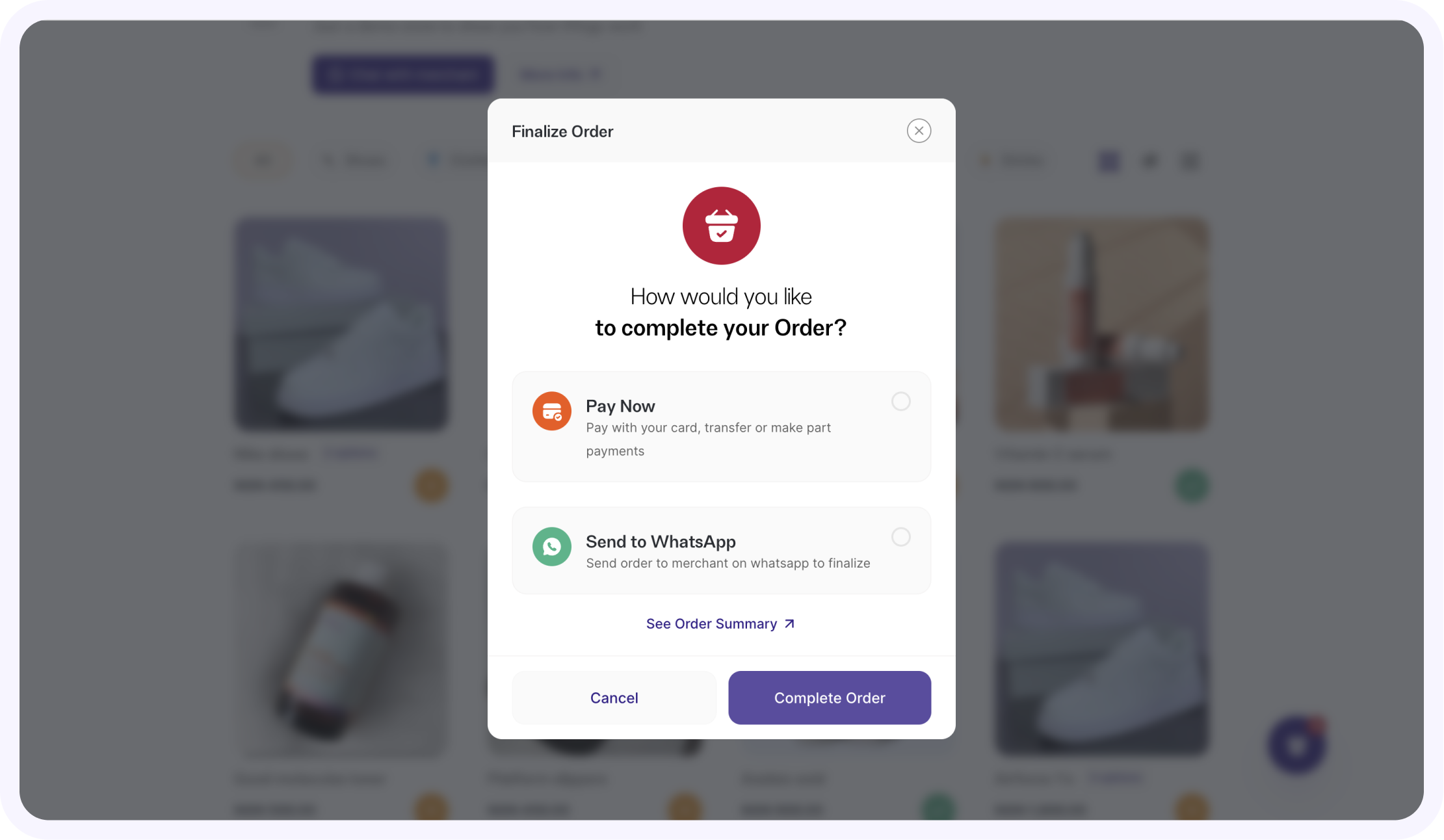 Lastly, merchants can now create invoice links - Invoice links are essentially invoices embedded in links with payment options - so customers can make payments that are resolved instantly.
These invoices can also be downloaded as a PDF file.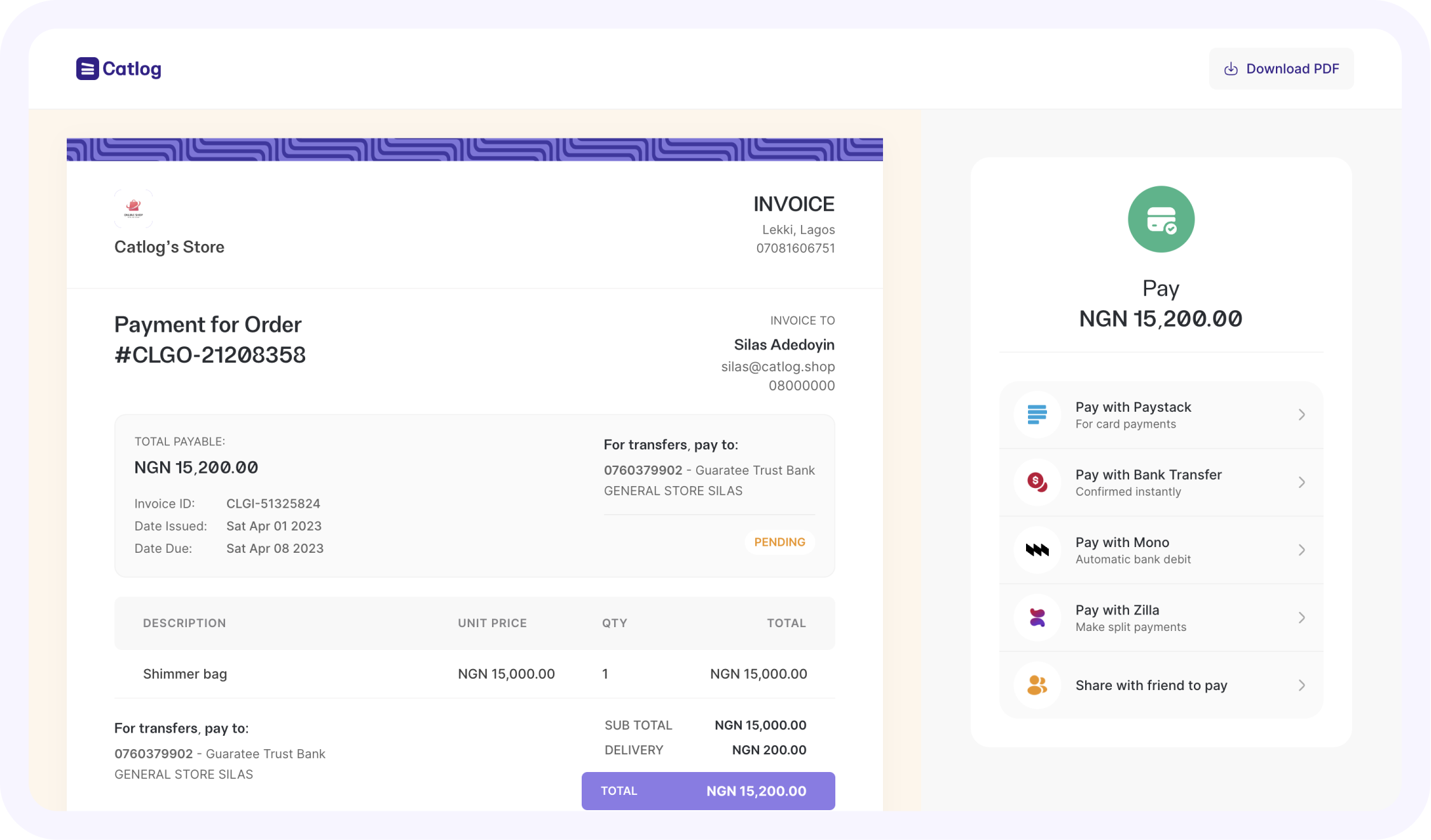 Supported payment methods
Today, customers can make payments via the following methods.
Paystack - For card payments
Monnify - For bank transfers
Mono - For direct debit payments
Zilla - For buy now, pay later
Customers can also share a link with their friends to pay on their behalf.
Receipts
When customers make payments, a downloadable PDF receipt is also generated. Businesses can also generate receipts for orders, even if they weren't paid for via Catlog.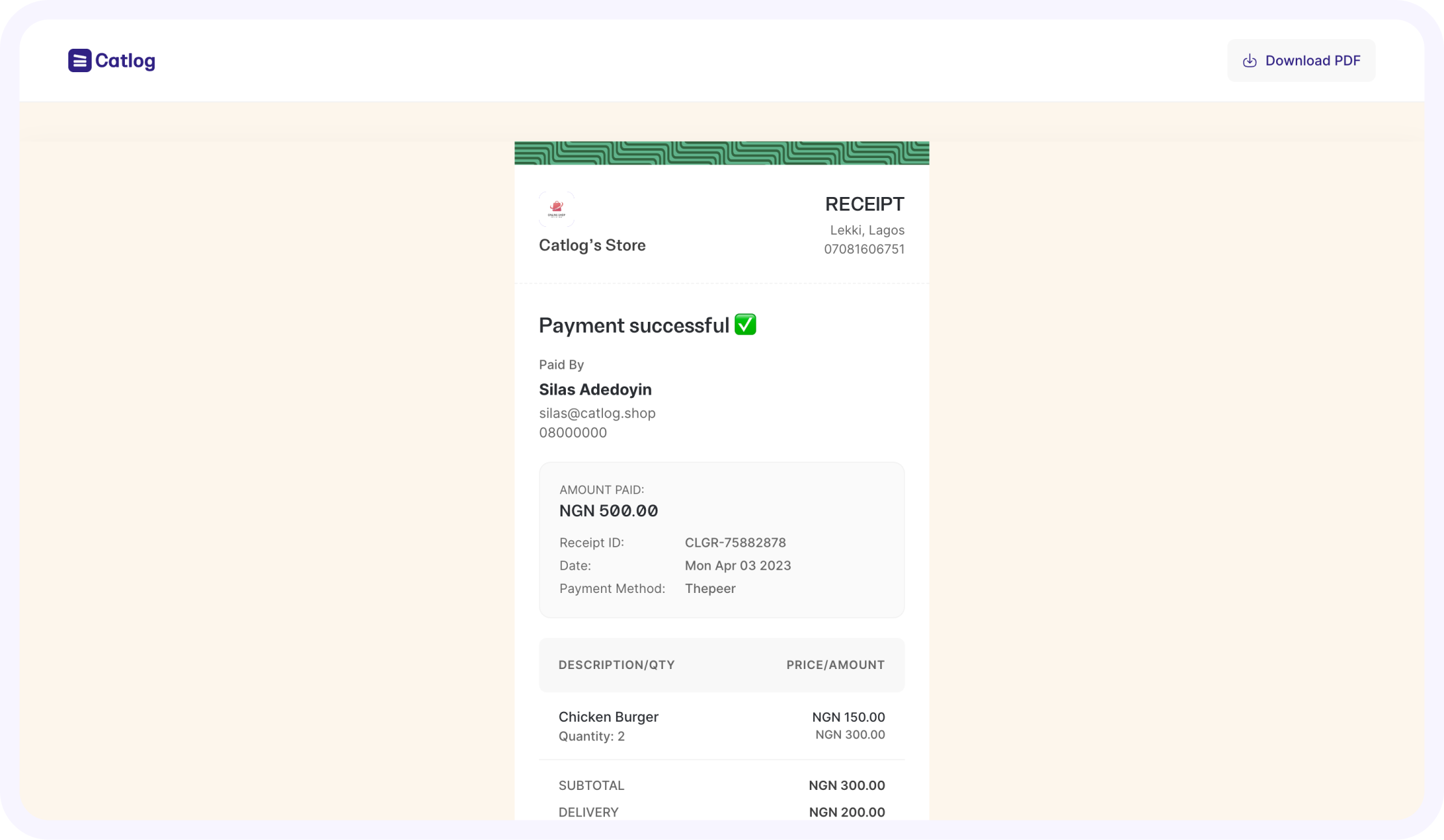 What's Next?
For us, this is just the beginning of providing financial services to millions of small businesses across Africa. In the coming weeks & months, we'll be integrating with more helpful payment methods, especially to help businesses receive payments internationally.
Once again, the team put so much effort into building this, and I'm grateful to everyone who contributed their time and energy to making this a reality.
We hope you enjoy using these as much as we enjoyed building them.

If you'll like to try out payments on Catlog, be our guest - use this store link to purchase any item of your choice - https://catlog.shop/catlogs-store
On to the next 🚀